Hey kids. 
Last night was our weekly youth group meeting called Veritas.
Here's a run down of what we learned together:
-Once a month, we set aside the games and the goofiness and do a night of worship. 
-This is creatively titled "Worship Night".
-It only serves to prove that I actually desire to be a bit more like this guy:
(PS, starting today I will be blogging live from the National Youth Workers Convention, and he's playing on Sunday)
-The number of kids who walked past me on the way into the gym (where we have contemporary worship at our church) who said "Oh, I love these nights" really got me thinking about what we think our kids like. Maybe dodgeball and silly eating games are a thing of the past, maybe they want to go a little bit deeper. But then again...
-The Jr. High boys were all over the place last night. Asking them to sit still is like asking a Philadelphia Fliers fan to have self-respect.
-Set list: No One Like You, Every Move I Make, You are So Good To Me, Breathe, (Talk), Hungry, I could sing of your love forever.
-Ed lead worship, even when half the worship team decided they couldn't come. Props to Ed!
-I gave the last talk in the "Do Something Series". Seriously, if you haven't heard of Doug Fields and his
Simply Youth Ministry
, you need to go there. After four weeks of absolutely choking trying to write my own talks, it was nice to have someone prepare an idiot proof script for me to follow. Kind of like having my own speech writer.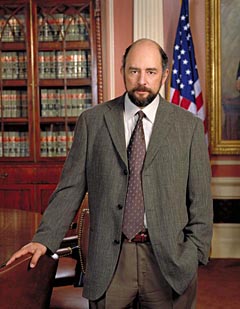 If I had to give the evening a letter grade, I would say "B+". 
As mentioned previously, tonight I'm heading down to the National Youth Workers Convention, so I'll be blogging from there. Today's highlights:
12:00 noon- Lunch with Marko. PYN is hosting a lunch, and I think it's going to be really neat to get to meet with Marko and share some ideas.
10:00 PM- Check into hotel room with gang, watch the Pens game. Please oh please let them take a few shots.
More tomorrow.
src="http://pagead2.googlesyndication.com/pagead/show_ads.js">